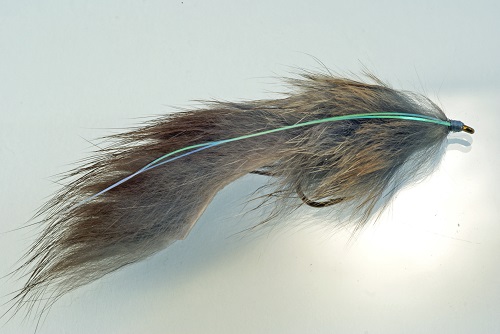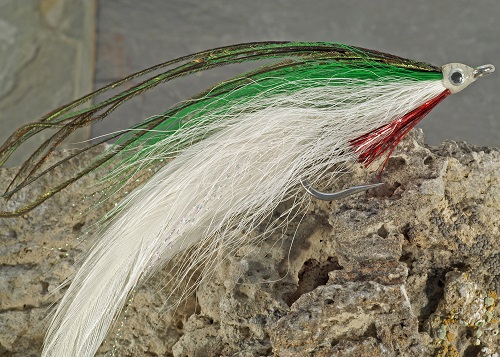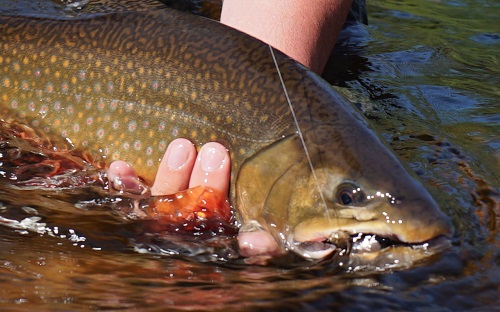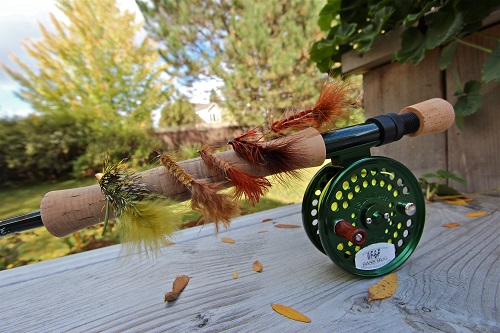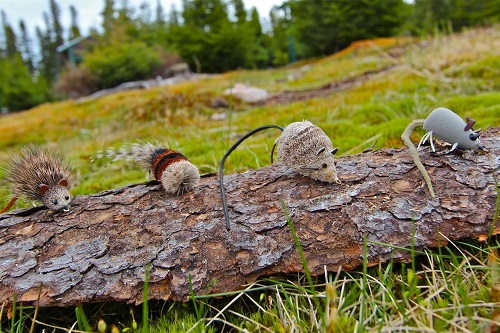 Our pristine wilderness location offer fly fishers outstanding opportunities for a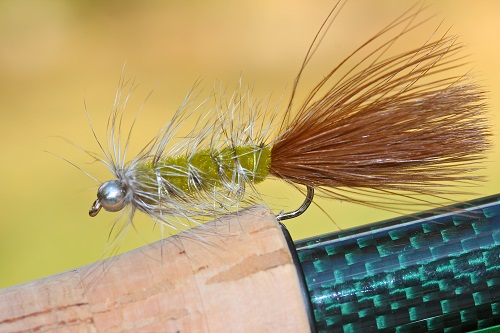 variety of species; brook and lake trout, northern pike, walleye and whitefish. Whether you choose our American or deluxe housekeeping plan you'll have lots of elbow room and an excellent chance at a trophy or even a record fish! Most of your fly fishing will be done from our roomy boats with late-model engines. Our fleet renewal has seen the introduction of boats with casting decks, pedestal seats and walk through arrangements perfect for fly fishing. We also have knowledgeable guides ready to assist you and make your holiday a success! We recommend 8-9 wt rods with large arbour reels and 7-8 wt floating line. Try new Tyger leaders, which you can tie in a knot like monofilament. As for flies, try Enrico minnows, Clouser minnows, Zonkers and Dahlberg divers, sizes #1 - #3/0. In the spring (May and June) or fall (September) long time guest and friend, Rod Young, likes to sight fish in warm shallow bays. "Simply cast to the fish and strip the fly back." In the summer you can troll your fly, twitching it occasionally, in six to eight feet of water.
---
Colin at the New Fly Fisher offers some pro advice from one who spent many days at our lake over the years. His proven techniques and advice are world renown. You can view more of his methods of success at his website The New Fly Fisher.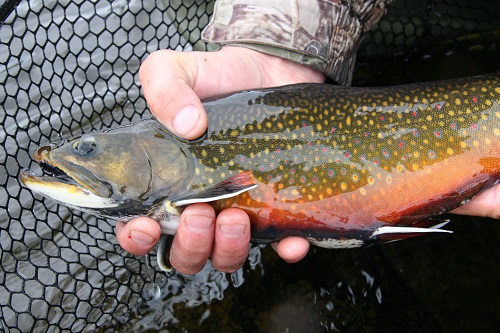 Brook Trout - Gear and Techniques Lodge 88 - Colin McKeown
Equipment
Generally, you'll encounter fish averaging 2-3lbs for which a medium-fast action 8½ to 9 foot, five or six weight rod is ideal for casting both light, dry flies and bulky mouse patterns. There is no need for a reel with a sophisticated drag system. A simple click-pawl model is quite adequate as well as classically satisfying.
The workhorse fly line for Brook trout here is a weight forward floater for fishing dry flies, nymphs, and shallow retrieved streamers. To complement the floating line take along a short sink-tip line (with a 6 to 12 foot sink tip) for getting streamers and Wooly Buggers down deep in the water column. I favor a fast sinker with a 3-5 weighting which sinks at 3 to 5 inches per second.
I prefer tapered 8-10 foot leaders with 3X to 4X tippets. If I need a lighter tippet I just tie on a section the appropriate diameter. Spools of 2X to 6X tippet will be sufficient for most situations.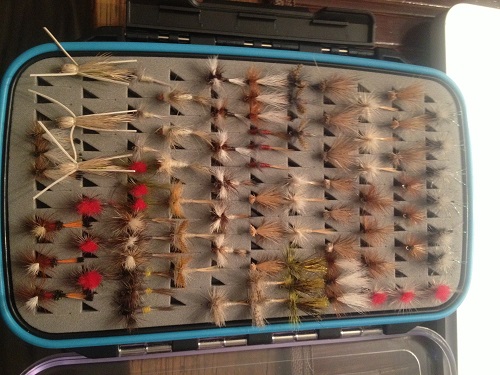 Flies
Most generic dry fly patterns for brook trout will work well at Lodge 88.
Dry flies: Stimulators, Wulffs, Adams, and BWO patterns all work well. One of my favorite tricks is to use a long leader (10 foot) coupled with a Goddard Caddis (size 14). After casting the fly, holding the rod high, I would dance the fly across the surface back to my position which provoked brookies into savage, slashing attacks which is very exciting.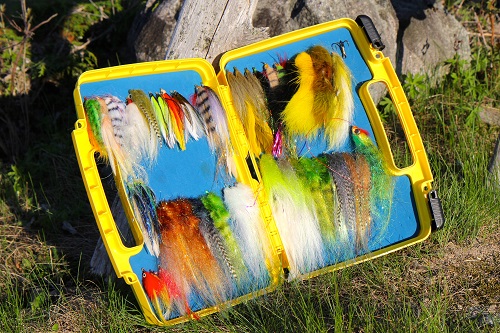 Streamers
Muddler Minnows in brown and white in sizes 4-10 are very effective. Wooly Buggers in black, white, purple and brown in sizes 6-10 also always seem to work well. Similarly, large streamer patterns such as Zoo Cougars and Strip Leeches in olive, black and yellow work effectively, particularly for the bigger fish.
You can still catch large fish on standard dry flies, but during the day mouse patterns and streamers are your best choice. Mouse patterns are a must have for your fly box, for big trout that want big meals.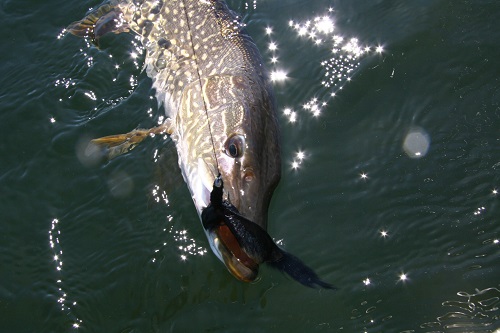 Pike - Gear and Techniques Lodge 88 - Colin McKeown
Rods should be 9-10 feet in length in a size #8 - #10 weight fast-action models with sufficient backbone to punch out big flies into the wind and to handle big, strong fish, along with a wide arbor reel with plenty of backing. A floating weight forward (preferably a specialty pike taper) line is standard, but a sink tip (type #3 with a sink rate of 2-3 inches per second) comes in use for getting big streamers down deep quickly. For a leader, use a six-foot length of 50lb mono or fluorocarbon, with two feet of wire as a bite tippet. RIO Bite wire in 20 or 30lb strength is perfect.
As the main forage base for pike in Esnagi Lake are perch and walleye, large streamers, such as Deceivers (6"-10" long tied on #1/0 to #3/0 hooks), which imitate them. These are the prime subsurface patterns. Surface patterns such as Dahlberg Divers or large tarpon poppers in black, green and brown are great for triggering explosive surface strikes!! Pike tend to hang around on the edges of weed beds, near fallen trees, sunken humps and points usually in water of no more than 5-12 feet deep. These are the prime places to target with both surface and subsurface patterns. Of course casting around river mouths is also a good bet as post-spawn walleye are attacked by big pike as they emerge back in the lake.